Call Dr. Loessin today to schedule a free consultation. (305) 809-8011
CHECK OUT Dr. Scott Loessin BOOK
My Mommy Makeover: Reclaiming Your Body After Childbirth
Scott J. Loessin is a renowned Plastic Surgeon, board-certified in both plastic and reconstructive surgery by the American Board of Plastic Surgery. Dr. Loessin specializes in aesthetic and cosmetic plastic surgery of the face, breast and body. His artistry, competency and more than 23 years of clinical expertise have helped his patients achieve rewarding, natural-looking results, and has promoted a strong and positive self-image in the lives of women everyday.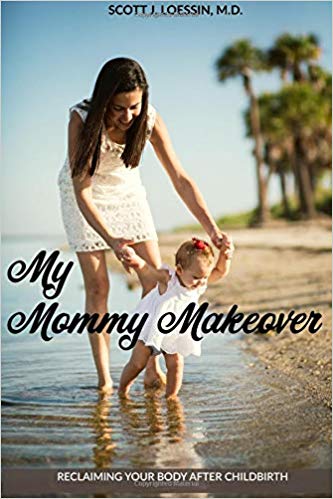 Dr. Loessin is popular for a new trend in plastic surgery known as the "Mommy Makeover," which is a rejuvenation of the body contour through liposuction, tummy tuck, and breast reconstruction. His artistry and competency, followed by 21 years of clinical expertise, has helped women to achieve rewarding, natural-looking results for their body as well as a strong and positive self-image in their lives.
Dr. Loessin has performed many amazing Mommy Makeovers throughout the Tampa Bay, Florida metro area and beyond. Mommy Makeovers are typically performed on women of any age who have noticed changes in their bodies due to:
Weight gain or loss
Aging
Pregnancy, especially multiple pregnancies, unusually large births, or twins
Genetic factors
Dr. Loessin has been given a five star rating by Real Self, which is an online community blog where consumers rate the cosmetic treatment that they received. At Real Self, Dr. Loessin has received excellent feedback, especially from women that are mothers who attained their desirable pre-pregnancy shape because of the extraordinary work of Dr. Loessin.
Mommy Makeover typically involves two or more of the following procedures:
Breast Augmentation and/or Breast Lift
Tummy Tuck
 Liposuction
Many women find that it is very difficult to return their body back to their previous natural shape. In spite of dieting and very serious exercise, they find that loose skin of the abdomen will not tighten and the breast are smaller and have lost shape. The Mommy Makeover can return a woman's body to its pre-pregnancy shape.
If you are interested in altering the shape of your body through a Mommy Makeover, please contact the Key West, Florida plastic surgery practice of Dr. Scott Loessin today at 305-809-8011.